On buying your first piano
Lately, I've been asked very often the same questions by many students or parents: how should I pick my first piano? What should I consider when buying it? I decided to write this post to answer those questions, and give my personal recommendations.
Acoustic vs Digital
Throughout my career I've played hundreds of different pianos or keyboards, and I have yet to find a digital piano that feels like an acoustic one, even a bad one. Unfortunately, there's still many differences, even with the best digital pianos in the market: the weight, the sound, the pedals, the resonance, and many other tiny details are still not perfected, and I wonder if they will ever be. So, if you have space at your house and you find a decent one, I would get an acoustic piano. There are different brands, different sizes, and they come in different colors. The most important, you can find them in many different conditions too. If getting a used one, it's good to buy one from a seller with good reputation, or to get someone with knowledge to check the instrument before buying it. Some very nice pianos are in bad shape after many years of not having been taken care of, and some seem to be in bad shape but they only need tuning and/or a little bit of work. Websites such as Craigslist or Facebook Market even have pianos for free, if you're willing to pay for the transportation, but every piano is a different world, and you would need to make sure that the one you choose is in good shape. Another option is renting a piano for a few months, while deciding if buying one, however, this can be quite expensive after a few months.
If you decide to go for the digital option, here are my top recommendations, sorted from lowest to highest price:
This is a keyboard that I would only recommend to young children, and not for more than one or two years. If the kid decides to keep learning, you would probably need a better keyboard soon. It only has 61 keys, while a normal piano has 88 or 85, and the weight is not comparable to a piano. However, it works for a little kid to learn the basics and have some fun with it for a time
Its price on Amazon starts at $129.99 for a NEW one.
This keyboard has 88 semi weighted keys, so it's already a big difference from RockJam 61. This would work for complete beginners, probably for three or four years without the need to get another keyboard. After that, if the student is serious about the study of piano it would definitely be necessary to get something better.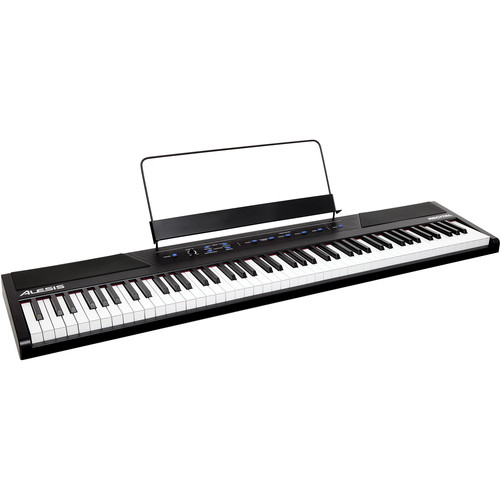 Its price on Amazon starts at $199 for a NEW one, so if you're willing to pay $70 more, I would definitely recommend this before RockJam 61.
This keyboard has 88 weighted keys, so it will work for complete beginners through intermediate or a bit more. It's one of the favorites out there, and it's probably the cheapest good 88 weighted keys keyboard. The sound and mechanism are considerably better than the previous options, and I have even seen professional pianists playing gigs with this one.

Its price on Amazon starts at $399.99 for a NEW one.
This one is my favorite for practicing at home. There's better keyboards for live performances, but for practicing it is one of the best I've found, and the sound and the mechanism are quite good. This one will definitely work for many years, even for advanced players. I still practice many times on this one for hours when a piano is not available. It's never as good as practicing on a real piano, but it's a quite good replacement, and it has a great price for its quality. It's also common to see many professional pianists playing gigs with this one, even though it doesn't have the sound quality that other professional keyboards have.

Its price on Amazon starts at $499.99 for a NEW one.
For most of these keyboards you will also need to buy a stand and a bench, which will add in to the final price. But the better the keyboard you buy, the longer it will last and the better the learning will be. Also, as I said before, almost always an acoustic piano will be better.
Please feel free to write me if you have any comments or questions, and I'll be glad to help you choose your first instrument.
Skip back to main navigation